Eshop Development with Woocommerce
An e-shop can increase the purchasing power of your business. We have developed a handy and affordable solution to help you promote and sell your products optimally. Through the friendly graphical interface of WordPress's WooCommerce platform, you can easily manage and update your online store with new listings and pricing of your products. Alternatively, the management of your online store is provided by our company.
Complete e-commerce solution
NetGraphics.Eshop is a complete e-catalog and commerce application. It has all the necessary e-commerce functions and can support both retail and wholesale transactions.
It provides ease of navigation to the user/customer and ease of management of the store by the administrator in a functional web environment.
For Developers and Providers:
NetGraphics.Eshop is available with a variety of options to meet the needs of any business. Completely free of technological glitches, it provides a host of features and capabilities that place it in the high end of the market. It is fast, simple and easy to install, configure and customize.
For End Users:
NetGraphics.Eshop is a reliable and secure system that inspires confidence in end users, enabling them to easily search and view products, easily add them to the shopping cart, and easily order and pay.
For Shopkeepers / Entrepreneurs:
NetGraphics.Eshop is an e-commerce platform that meets the needs of professionals and companies that want an essential tool for two-way and effective communication with all stakeholders as well as to enhance their profile.
It is aimed at those looking for an application, which will be easily adaptable to current and future needs.
The system uses Internet technologies, so it provides high availability and easy interconnectivity without requiring the cost of acquiring special equipment, contributing to the seamless development of the partner network and clientele.
Main characteristics
Website content management
NetGraphics.Eshop includes a Content Management System (CMS) for managing products, categories, web pages and all digital content. It provides the following features:
Edit, copy, move and search content.
Classification into categories/subcategories.
Management of Products and Product Categories
NetGraphics.Eshop includes structure with unlimited sections and product groups. It provides the following features:
Create unlimited sections, categories and subcategories. Each product can belong to one or more sections and categories.
Delete (individual or mass) sections, categories and subcategories.
Import unlimited products by creating a tab that includes a wealth of information (name, description, price, serial number, VAT, weight, volume, shipping packaging, available, reserved, enable/disable, display priority, product type, supplier, etc.) .
Change / edit the tab of sections, categories and subcategories.
Add product characteristics and define their types.
Product Attribute Management
Ability to enter an unlimited number of characteristics for the products (eg size, color, type, etc.). Features can be informational only or affect the price of the product as well.
Kit & Set Products
Ability to create kits and sets of products (e.g. display of related or connected products).
Product Showcase Management

Show storefront and update or delete storefront points.
Customer management

Support for user-client registration mechanism in NetGraphics.Eshop. The activation of the user / client can be done in three ways depending on the choice of the administrator.
Immediate activation, i.e. upon registration the user-client is activated.
By sending a relevant activation email, to which the user-client must respond by clicking on a relevant link sent to him.
Enabled by administrator. The administrator sees the client users, and enables/disables access, or gives them more or less access rights.
Shopping basket
The shopping cart and wish list includes the product's photo, quantity, name, description, features selected by the customer, and the initial and final price of the product. There is two-way transfer of order lines between the cart and wishlist. The shopping cart at the end of the order is sent intact together with the other items of the order to the customer and the administrator.
Management of Discounts / Offers
NetGraphics.Eshop provides the ability to apply/create discounts, which take place when a certain number of products are ordered. Discounts can be applied to categories, sub-categories and products giving every merchant a wealth of discount options. Promotions can be used to offer discounts based on time periods specified by the administrator.
Orders – Processing and Management
At the end of the order, the customer receives a relevant email, with the order number, his details, the recipient's details, the basket, the total payment amount, the payment method chosen, the policy followed by the eshop regarding orders, etc. The customer can track the status of their order and their order history. As long as the order has been sent with a courier company and the company has a shipment tracking system, it can also monitor the progress of the shipment. The processing and management of orders is done by the administrator in a simple and easy way.
Payment Processing and Management
Support various payment methods (cash on delivery via courier, credit card, Paypal).
Taxes & VAT
Possibility of VAT readjustment in case of sending products to zones with reduced or zero VAT.
Outputs and Statistics
The administrator has access to eshop activity statistics reports.
Mobile / Tablet Responsive
Layout design with the Responsive web design technique, so that the eshop provides the best viewing experience (easy reading and navigation) from a wide range of devices and various screen sizes and resolutions (smartphones, tablets, laptops).
Search engine optimization (SEO)

To ensure the visibility of the eshop in the search results of most search engines, and to increase its traffic, search engine optimization techniques (Search engine optimization – SEO) are applied.
Warehouse management
Inventory management and balance tracking. Classification of products as immediately available or available on request depending on availability.
Backups
Download backups (daily on Server).
Management of Shipping Services
Calculation of the cost of shipping the products according to their volume and/or weight. Possibility of a special implementation of a shipping cost calculation algorithm, depending on the agreement made with the courier company.
Let's Encrypt SSL (Secure Sockets Layer)
Application of SSL protocol for encryption of sensitive data, for the security of transactions via the internet.
Managing newsletters
Connection of the eshop with Mailchimp to register customers in the newsletter.
Multilingualism
Support for unlimited languages.
Management of sale of services (time dependent)
Ability to purchase a service for a specific period of time (eg car rental, website hosting, service subscription, etc.) or a one-day service (eg tour, ticketing, course purchase) depending on the availability set per day.
Wholesale (B2B) transactions
Possibility of wholesale transactions with different discounts per customer category.
Accessibility
Accessibility of the website for people with disabilities. Prerequisite if the eshop is subsidized by the ESPA program.
ERP connectivity
Ability to connect the Eshop to your company's ERP program.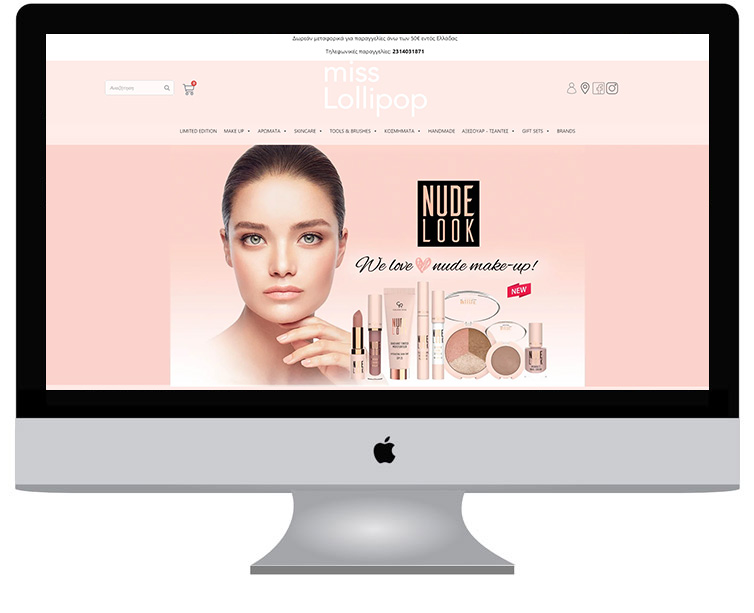 ESHOP DEVELOPMENT PACKAGES
NetGraphics.Eshop.Basic
Characteristics
Website content management
Management of Products and Product Categories
Manage product features
Kit & Set Products
Product Showcase Management
Customer management
Shopping basket
Management of Discounts / Offers
Orders – Processing and Management
Payment Processing and Management
Taxes & VAT
Outputs and Statistics
Mobile / Tablet Responsive
Search Engine Optimization – (SEO)
Warehouse management
Backups
Management of Shipping Services
Let's Encrypt SSL (Secure Sockets Layer)
Managing newsletters
Possibility of additional features such as:
Accessibility
Connectable to ERP
NetGraphics.Eshop.Basic+
Characteristics
Website content management
Management of Products and Product Categories
Manage product features
Kit & Set Products
Product Showcase Management
Customer management
Shopping basket
Management of Discounts / Offers
Orders – Processing and Management
Payment Processing and Management
Taxes & VAT
Outputs and Statistics
Mobile / Tablet Responsive
Search Engine Optimization – (SEO)
Warehouse management
Backups
Management of Shipping Services
Let's Encrypt SSL (Secure Sockets Layer)
Managing newsletters
Multilingualism (2 languages: Greek, English)
Possibility of additional features such as:
Accessibility
Connectable to ERP
NetGraphics.Eshop.Professional
Characteristics
Website content management
Management of Products and Product Categories
Manage product features
Kit & Set Products
Product Showcase Management
Customer management
Shopping basket
Management of Discounts / Offers
Orders – Processing and Management
Payment Processing and Management
Taxes & VAT
Outputs and Statistics
Mobile / Tablet Responsive
Search Engine Optimization – (SEO)
Warehouse management
Backups
Management of Shipping Services
Let's Encrypt SSL (Secure Sockets Layer)
Managing newsletters
Multilingualism (2 languages: Greek, English)
Service sale management
Possibility of additional features such as:
Accessibility
Connectable to ERP
NetGraphics.Eshop.Professional+
Characteristics
Website content management
Management of Products and Product Categories
Manage product features
Kit & Set Products
Product Showcase Management
Customer management
Shopping basket
Management of Discounts / Offers
Orders – Processing and Management
Payment Processing and Management
Taxes & VAT
Outputs and Statistics
Mobile / Tablet Responsive
Search Engine Optimization – (SEO)
Warehouse management
Backups
Management of Shipping Services
Let's Encrypt SSL (Secure Sockets Layer)
Managing newsletters
Multilingualism (2 languages: Greek, English)
Service sale management
Wholesale Transactions (B2B)
Possibility of additional features such as:
Accessibility
Connectable to ERP